Amazon 10 [closed]
Link for update:
http://cherpopiah.wordpress.com/2013/06/08/spree-updates/
Join my fb group if you want to get notified about new sprees:
https://www.facebook.com/pages/Popiahs-Spree/245264458875899
Or


Spree Link
http://amazon.com
Terms and Conditions
1.I have the right to cancel spree, if response is poor
2.I am not responsible for lost mail, defects in products due to
postage or if supplier MIA
3. I am
not responsible
for any
damage to the envelop
-> I wouldn't be so anal to send out a torn envelop.
4. Please note that if your item gets
crumpled
during mailing it is
not my fault
, I wouldn't send crumpled stuff (e.g. screen protectors)
5.No payment = no order
6.Please post payment and order in 1 comment
7.Always double check your order, I would not be responsible for wrong
items sent unless it is my fault
8.No interbank, ATM is fine
9.Items would be confiscated if not collected within a month
10.Updates done through mass-email and LJ
11.Join my spree = you have read and
agree
to my t&cs
Misc but impt info
1.60 cents handling fee per spree-ers
2.I will start a QnA thread below, I would not entertain answered questions
3.Feel free to enquire via email :)
Cap
Do check that the item have the wordings like those in the red box indicated with an arrow.
Or if it is eligible for free super saver shipping (otherwise you are liable for shipping fee within US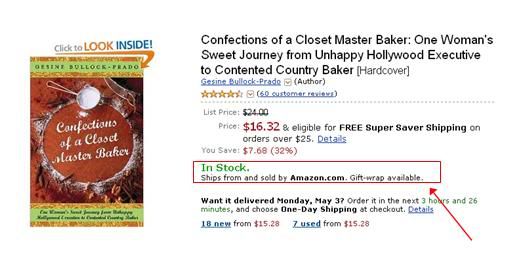 Credit to
ijustwannajoin
Basically you can order everything and anything so long if
a) you are willing to pay for domestic US shipping fee
b) these items are not prohibited by the customs
http://www.vpost.com.sg/vpost/welcome.jsp?page=shipping_prohibitedItems.html&option=0&lnav=shipping_sidenav_ws.html
check that your item and/or its ingredients are not listed on this page in vpost.
Remember to check the 'Prohibited Items for Export from USA & Europe' as well.
Exchange Rate
1 USD = 1.32 SGD
Payment Breakdown
1st payment: Item fees
2nd payment: 60cents handling+ postage+ shipping
Email
bpcher@gmail.com
Bank Acc
Posb sav 030357329
Delivery Info
Amazon to Vpost to me
Normal/Reg post/self collection at my house in Sembawang is possible at my own free time.
Overseas shipping possible but the additional shipping fee would be incurred at your own cost.
Order Format
LJ Nick/Name:
Email:
Item
#1
Name:
URL: ( please ensure URL is correct, will order accordingly to this! )
Size:
Color:
Item code:
Quantity:
Price (USD):
Alt :
Item 2
Name:
URL: ( please ensure URL is correct, will order accordingly to this! )
Size:
Color:
Item code:
Quantity:
Price (USD):
Alt :
Total Qty:
Total Price in USD:
Total Price in SGD: USD*1.32
Transaction Reference:
IB nick:
ATM Location:
ATM time:
Amount paid:
Feedbacks
Spreesgalore:
http://community.livejournal.com/fbspreesgalore/135357.html
(+224/1/0-)
Comments {31}